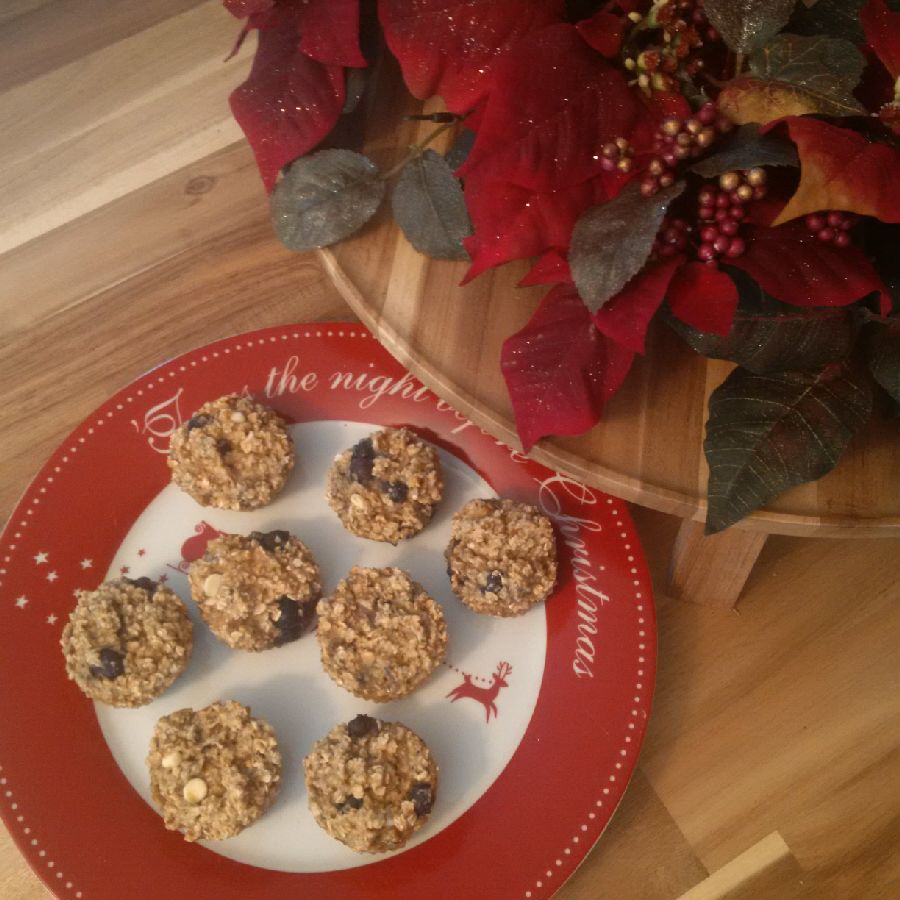 This recipe can be made gluten free, dairy free and sugar free and will still have your kids begging for more.  What's even better is that the basic recipe is easy to memorize so you can throw the ingredients in a bowl in less than 5 minutes and then add whatever your heart desires that day.
I have made these muffins in a very berry, and a carrot-apple-nut, or a white chocolate-blueberry.  You can even go as simple as cinnamon-sugar or coconut-chocolate chip.  Today I opted for blueberry – white chocolate – hemp heart.  Weird combo, but my daughter is pleading with me for a 3rd muffin right now while I write this.  I also use mostly gluten free, dairy free and low sugar ingredients.
Here is the basics:
3 cups rolled oats (use gluten free if necessary for your diet)
2 cups milk (I use organic almond milk and even some water if I run out of milk)
2 eggs (flax eggs work as well – just makes a little more of a dense muffin)
1 cup flour (any kind will do – I've used almond flour, oat flour or gluten free all purpose)
4 tsp baking powder (Bob's redmill makes a great aluminum free version)
8 tbsp sugar (this is optional. I often cut it down and use coconut palm sugar or granulated stevia)
Directions:
Preheat oven to 350 degrees.
Put 2 cups of oats in a mixing bowl and add the milk.  Set aside while you mix the dry ingredients.
Mix 1 cup oats, 1 cup flour, baking powder and sugar in a separate bowl.
Add the eggs to the wet mix and stir well.  (I just use a big spoon).  Add the dry ingredients to the wet ingredients and mix.  Then you add whatever you'd like from the list below.  I add approximately 2 cups of any combo of the ingredients below:
blueberries (frozen or fresh)
raspberries
mixed berries
grated carrot
grated apple
chopped nuts
hemp hearts
coconut
chocolate chips
The batch makes about 2 dozen.  I use parchment paper muffin cups because I despise cleaning my muffin pans, but lightly oiling the pan works as well.  Bake at 350 degrees for 18-20 minutes.  Let sit for 5 minutes and then enjoy!
This is definitely my go-to recipe.  I start making these muffins for my babies when they are 8 months old and just omit the sugar altogether.  I would use just a straight oat or almond flour and almond or coconut milk for the liquid.  Flax eggs would also be a safer option for really little babies, but these are great early snacks in our family!