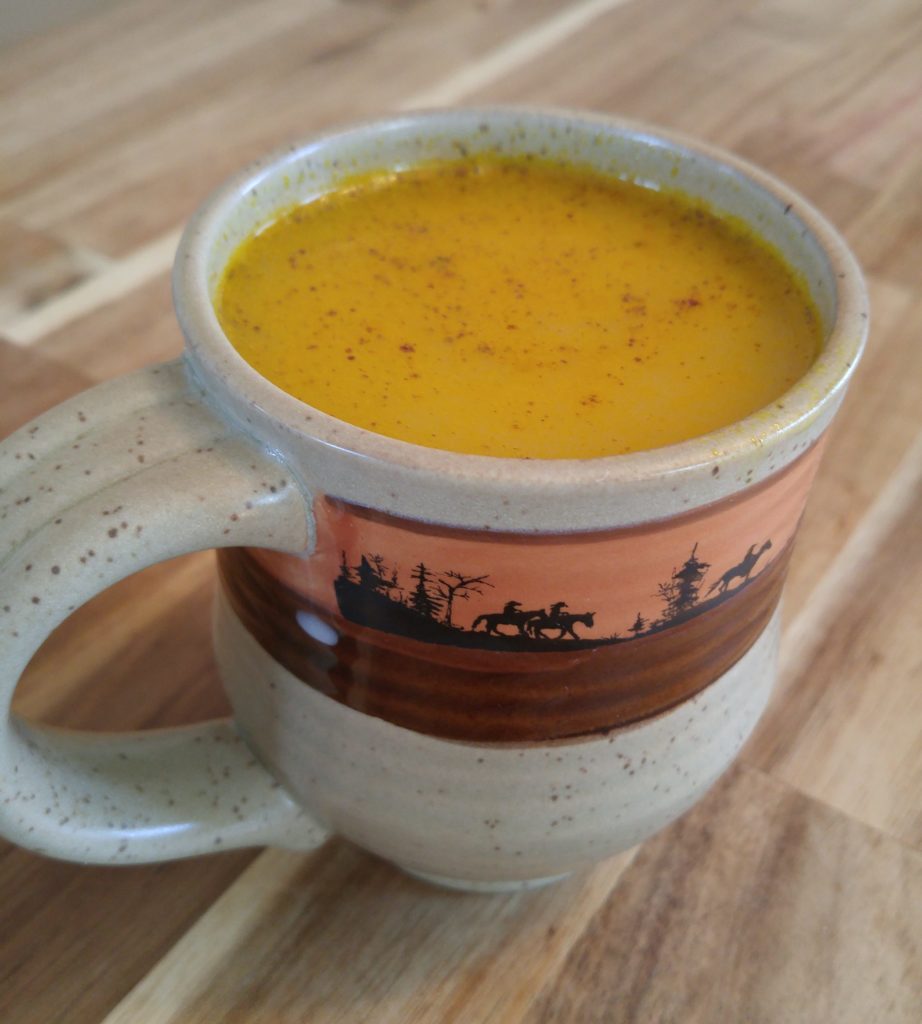 Are you someone that loves the comfort of a hot latte?  What if I told you that you could create one of the most beneficial concoctions for your overall health and satisfy that craving at the same time?  The ingredients can not only reduce inflammation and bring you into the moment, but it can help with depression, heart disease and is a potent antioxidant!!  I read about this latte on Dr. Kelly Brogan's website, and was a little bit skeptical, but the benefits were so enticing that I couldn't resist trying it!  I was pleasantly surprised at the perfect hint of spice and cinnamon, and after 6 weeks of introducing this into my daily routine, I'm honestly feeling more balanced, less bloated, increased energy and my eczema has gone away!  Now, I'm not saying that all of these wonderful things can be attributed to this latte, but considering how much I'm enjoying it, I'm going to keep this daily ritual going!
The recipe is well thought out as each ingredient has a purpose.  Tumeric contains curcumin, which is the main active ingredient, and has the most health benefits.  However, there is only about 3% curcumin in tumeric and it's not easily digestible – unless you take it with piperine (pepper), which increases it's absorbtion by 2000%!  It also helps to take it with fat as it is fat-soluble.  This recipe contains both black pepper and coconut oil which takes advantage of these two tips!
Curcumin can be taken to reduce inflammation, which is linked to many chronic illnesses.  I personally despise feeling bloated and this was big draw for me to give this a try.  Curcumin is known to be extremely helpful at fighting inflammation at the molecular level, some studies even show it be on par with anti-inflammatory drugs! (read about that here)
Look no further than curcumin for some extra protection in fighting those free radicals!  It not only helps to boost the body's natural antioxidant enzymes, but it can neutralize the free radicals due to it's powerful antioxidant capabilities! (read about that here)
Curcumin has also been shown to possibly increase your Brain-Derived Neurotrophic Factor (BDNF), which is a hormone that can help lower your chances of depression and Alzheimers, among other degenerative processes in the brain!  More studies need to be done, but this is intriguing information!
The function of the endothelium, the lining of the blood vessels, can be improved as well.  This is how curcumin can help reduce heart disease – a leading cause of death today.  The fact that it is has anti-inflammatory effects also helps in lowering heart problems overall.  (read about that here)
I could go on, but let's just get to the recipe!  I'm not a doctor or a nutritionist, but trust me when I say it's been great for me, so I just had to share!
First you need to pre-make a paste that you keep in your fridge:
Ingredients:
1 Cup Water
1/2 Cup Tumeric Powder
1/3 Cup Coconut Oil
1/2 to 1 tsp Black Pepper
Steps:
Put the water and tumeric powder in a saucepan and heat on low for approximately 7 minutes.  Stir in more water if it is too dry.
Remove from the heat and add the coconut oil and black pepper.
Store in a glass container in your fridge.
Now for the latte!
Put 1 tsp of the paste into your mug.
Add 1/3 cup milk (almond, coconut or whatever milk you'd like)
Add 1 – 2 tsp raw honey
Add a dash each of cardamom, ground cloves and cinnamon.
Fill the mug up with boiling water, stir and enjoy!
So next time you're craving that latte, try this instead!  Then let me know what you think!